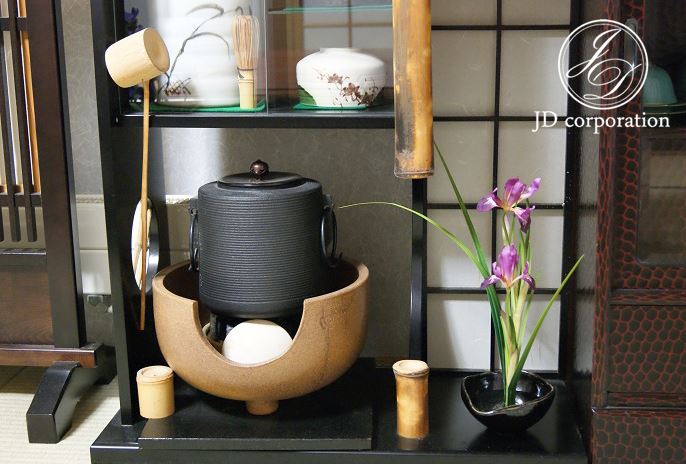 古来日本人は移り行く時の流れの儚さを「無常」と呼び、
刹那の美の奥ゆかしさに心を委ねました。
雨水がゆっくりと土に染み込むように
私たちの心の奥底に染み入る、ほんのりと優美な情感。
それが、「雅」。
野に咲く一輪の花に風情や季節を感じてきた日本人の豊かな感性を
四季折々の花で表現しました。
清らかに透き通った美しい水の表現と心和む苔玉のデザインを楽しみ下さい。


Since ancient times,
the Japanese have called the transient flow of time "mujo", and have yielded themselves to
the gracefulness of an ephemeral beauty.
The Japanese appreciate the uplifting feeling of true beauty
sinking into the innermost depths of their heart,
just like rainwater slowly sinking into soil.
This feeling is called "MIYABI".
The MIYABI series reflects the sensitivity of the Japanese,
who can appreciate a single flower blooming in a field,
and who have valued the changing of the seasons since ancient times.
Please enjoy the expression of beautiful crystal-clear water
as well as the moss ball design that soothes the mind.
---
「花雅」でしかなし得ぬもの
ありのままの美しさを、その姿のままで。
生花と見違えるような上質なシルクフラワーで再現。

枯れず。萎れず。日々のお手入れや水替えなどの心配も無く、
シンプルな中の凛とした一瞬の美をそのまま、永くお楽しみいただけます。
花粉や香がないのでアレルギーの方も安心です。


Achieved only by HANA MIYABI
Natural beauty has been re-created with
top-quality silk flowers so perfectly that they are easily mistaken for real flowers.
They never wither or wilt.
They require no daily care and no water.
You can enjoy the transient beauty and simplicity of life without having to look after them.
And as they have no pollen or scent, the flowers will not cause allergies.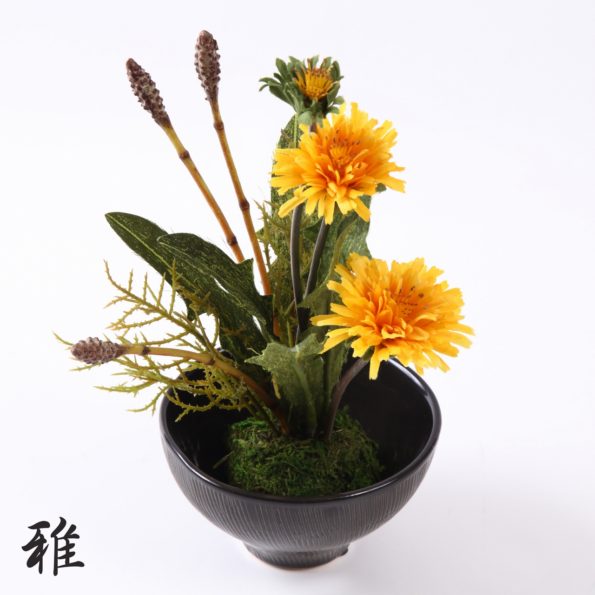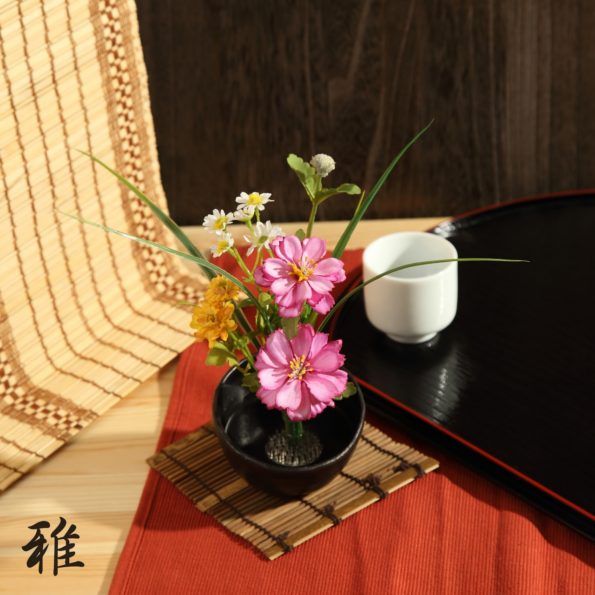 ---
麗しさの独創
陶器の器に剣山を置きシルクフラワーをあしらい
人工水(樹脂)で固めたアレンジは
まるで本物の生け花。
花雅だけの意匠登録商品です。
意匠登録番号第1535795号 花器 (人口水と剣山)
意匠登録番号第1591268号 花器(人口水・こみ藁)
和の風情、質感が周りの空気までも変えてしまう、
和の立ち振る舞いをお愉しみください。


Display of Original Refinement
The design of silk flowers on a needle-point holder
set in artificial water (resin) in a pottery bowl looks
just like an arrangement of real flowers.
Only the HANA MIYABI brand has received a design registration
for this creative product.
(Design Registration No. 1535795 & No. 1591268)
The refinement and texture of "wa" (Japanese culture) will surely change the ambience of the space.
Please enjoy the true sense of "wa" created by HANA MIYABI.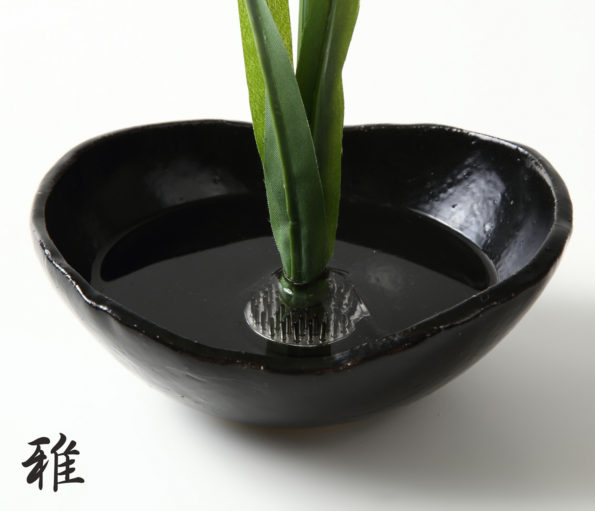 ---
佇まいは、親愛
雅の風情を、親愛の情を添えて。
人口水(樹脂)が紡ぐ和の空気をそのまま、贈り物にいかがでしょうか。
ギフトにぴったりのクリアボックス付きです。
勿論、水がこぼれたり検疫の心配も無く、海外へのお土産にも最適です。


Consideration for Others
The HANA MIYABI series conveys the sense of
"wa" (Japanese culture) through artificial water (resin)
for gifts with great affection.
Each item has a clear plastic box appropriate for a gift.
It makes an ideal souvenir to take back home
because there is no water to spill and no quarantine requirement.